Picture Recovery Software

Award winning Google photo recovery software recommended by industry experts
Recovers lost or deleted pictures from hard drive & other removable drives
Recover RAW images from various brands of cameras like Nikon, Sony, Canon, Kodak, etc
Restore lost images from formatted, corrupted or inaccessible storage media
Efficient picture recovery software for Mac and Windows platform
Searching for a tool to recover photos?
When any of you lose some of the photos from hard disk drive or any other storage media like memory card, SD card, SSD, etc. then there is no limitation to the sorrow of owner. Pictures are usually associated with many of users sweet memories, which can be revisited by just visualizing at them. When computer or laptop hard drive gets corrupt or formatted, images that you saved in them gets inaccessible. Therefore, in order to reaccess those images users need make use of data recovery tool that can meet your requirements. Picture Recovery Software is one such application that recovers each of the required images in matter of few mouse cliks on the software.
This JPEG photo recovery software is very well built with well-organized programs to manage all sort of picture loss which can happen. By making use of this award-winning and highly recommended tool recovery of pictures can be done in exactly the same format as it happened to be once. As the files are recovered back, the originality of the files can be verified by simply checking out name, content, and signatures.
A few of the picture loss or deletion scenario are detailed as follows:
Accidental deletion: Usually we prefer deleting junk files using Shift + Del command. But, at times its improper usage leads to accidental deletion of some of the crucial images. Similar sort of scenario develop when users unintentionally click on Empty Recycle Bin, which clears each of the files available at recycle Bin permanently.
Formatting: Formatting command is capable erase each of the files saved over the respective drive upon which it is applied. So, if any user applies the format command upon the drive unintentionally, then, lot of images gets missing.
Virus attack: When viruses attack happen on the storage device, they damage the file system and thereby leading to unavailability of the pictures.
Power surge: Due to power interruption your computer may get turned off improperly. Thus, there are plenty of chances that it may damage the drive or its contents. Similar, sort of issues can happen on the electronic devices which have storage cards within it.

No matter what is the scenario of pictures loss from the saved location it can be easily recovered using this Picture Recovery Software. By making use of this deleted picture recovery software different file formats can be easily recovered such as JPEG, TIFF, GIF, JPG, PNG etc. It is also capable of restoring RAW pictures that are captured from various professional cameras like Sony, Nikon, Canon, Panasonic, Kodak and different others. It overwhelming graphic user interface allows its users to make easy rescue of files from saved memory location.

A few of the important features of this tool are:
By implementation of its strong storage device scanning techniques, this app can recover audios, pictures and different other file in matter of few minutes.
Recovery from Vista, XP, Windows 8, 7, Windows Server 2003 and 2008, Leopard, Snow Leopard, Mac OS X Lion, etc
Recover images from formatted and reformatted external hard disk drive with same ease.
It allows it consumers to save recovery session, which can be later used to resume it at any point of time in future.
The other beneficial aspect of this software is that it allows its users to zip the restored items, to save memory space.
Supported Format of Photo Files: JPEG, TIF, JPG, TIFF, PSD, CR2, PNG, BMP, GIF, CRW, ORF, MRW, NEF, ARW, SR2, PEF, DNG, 3FR, RAW, X3F, K25, RAF, KDC, and DCR
Supported Digital Camera Manufacturers: Panasonic, Sony, Nikon, Canon, Kodak, Olympus, Minolta, Fujifilm, Sanyo, Pentax, Samsung, Hassleblad, Sigma, Leica, Casio.
Supported Brands of Flash Memory Card: Kingston (Ultimate, Standard, Elite Pro), Lexar (Professional, Platinum, Echo), ADATA (Turbo), Canon, Dane-Elec, Duracell, Fujifilm, Garmin, HP, Olympus, SanDisk (Extreme, Ultra, Extreme Pro), Sony (Memory Stick), Transcend, Patriot (LX Series, Signature), PNY (Pro-Elite, Optima), Samsung. To know how it functions on memory card, click on the mentioned link: http://www.picturerecoverysoftware.org/memory-card.html
Recent Update
Recently, this recovery tool is upgraded through some effective scanning algorithm to make it appropriate solution for deleted photo recovery from memory card. If any of your valuable images are deleted in any cases, just use this utility immediately. Visit the link to follow simple steps of recovery: www.picturerecoverysoftware.org/deleting-them-from-memory-card.html
It does not matter how you have deleted your photos from Kodak camera, it is always a discouraging situation. But, now a new version of picture recovery software has been launched, which is proficient to recover deleted pictures from various model of Kodak camera. To know more, click here.
Now by using this software you can also restore pictures from Kodak Easy Share camera. To enhance your knowledge about this simply log on to http://www.picturerecoverysoftware.org/kodak-easyshare.html.
Steps to use Picture Recovery Software:
Step 1: Download and install Picture Recovery Software on your system. On launching it, select "Recover Photos" on the main screen.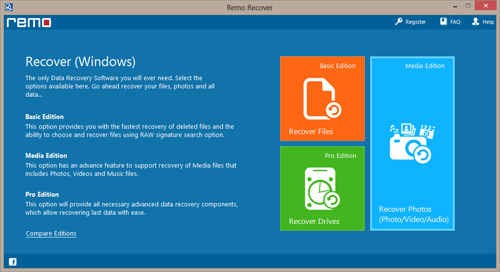 Figure 1: Main Screen
Step 2: Choose the drive and click "Next". Soon after the scanning process you will get a list of recovered files in "File Type" and"Data Type" view.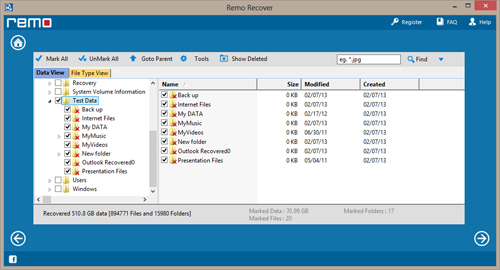 Figure 2: Data Type View
Step 3: By clicking at "Preview" button you can view the recovered image before you restore it.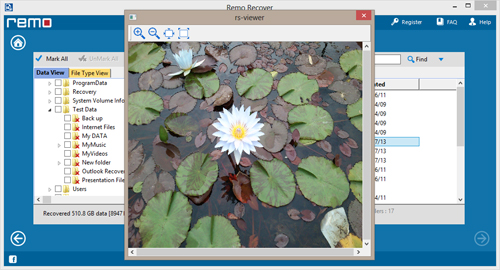 Figure 3: Preview Image
Step 4: Select the files and save them on your computer or to other removable media.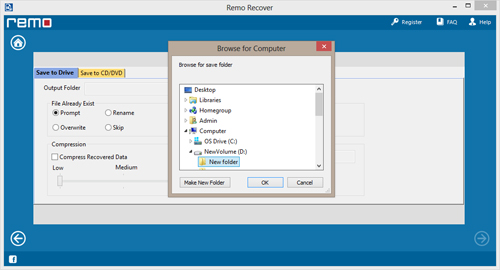 Figure 4: Save Recovered Files
Safe and Secure

Testimonials