Recover Pictures from CF Card
Compact Flash Card Picture Recovery
Compact Flash card is preferred by most of us because it is easy to access and portable in various types of electronic gadgets. It is especially used as a media storage device in different cameras, music players, camcorders and game devices to amass images, music and video files. CF card is available in low cost and enormous storage space, which allows us to store a large number of high quality pictures safely. But, you may lose your priceless images from CF card due to various reasons. If you want to recover pictures from CF card quickly, you should choose an efficient Picture Recovery Software. You will be surprised after knowing that you can recover your entire photos deleted or lost from your CF card.
Prior to recovery of pictures from CF card, let us take a glance on common scenarios for which you may lose your important images from CF card.
Improper Handling: Most commonly, images are deleted or lost from memory card due to improper handling of CF card by the user. Many times, we remove the CF card without using 'Safely Remove' option. Besides that, if file transfer process is interrupted due to any reason, you may lose your desired images.
Unintentional Deletion: Very frequently, photos are deleted from CF card due to accidental press of 'Delete All' button on digital camera during preview photos. You may also delete your important images from memory card using 'Shift + Delete' keys when you accessing it through your system. Then, use this application to retrieve accidentally deleted picture.
Corruption of CF card: CF card is corrupted due to sudden power surge or frequent system reboot when it is connected to your computer. It may also get corrupted if capture images continuously with low battery camera. After CF card is corrupted, you cannot access your images from it.
CF Card Formatting: You may lose whole information in a minute due to formatting. Usually, it is happened when you are going to access your memory card on your system. Then you will get a pop-up message like "Drive not formatted, do you want to format it?" If you select 'Yes option', you will lose all files immediately. But, do not panic, you can bring back all your lost images by employing this amazing tool.
You can avoid most of these data loss situations after taking few precautions. Always keep regular back up of your important CF card data and do not use ordinary tool for recovery. Apart from that, don't use same flash card in so many devices because different devices supports different file system. If any type of error occurs during change of file system, your card will be corrupted.
After taking adequate precautions, if your expensive photos are lost, use this Picture Recovery Software once. It has some unique features in pictures recovery that makes it popular globally. You can make use of this powerful photo recovery app to retrieve deleted pictures from large range of digital cameras such as Nikon, Canon, Samsung etc. It is designed with an in-built algorithm to recover all types of media files including pictures, music and video files. It is an appropriate tool to restore JPG, PNG, TIFF, BMP, RAF,CR2, KDC and other types of RAW images from Nikon, Sony, Canon, Kodak, Panasonic and many other. If you have lost images from your Kodak Easy Share camera then visit http://www.picturerecoverysoftware.org/kodak-easyshare.html to learn how to recover pictures from Kodak Easy Share without any trouble. This award-winning photo recovery utility is compatible with both Windows and Mac operating system. To know more about CF card pictures recovery on Mac computer, use this link: http://www.picturerecoverysoftware.org/mac.html
Perform these steps to Recover Picture on Flash Card
Step 1: Download and install this photo recovery tool on your computer. After connecting CF card, launch this application and select "Recover Photos" option from main screen as shown in Fig 1.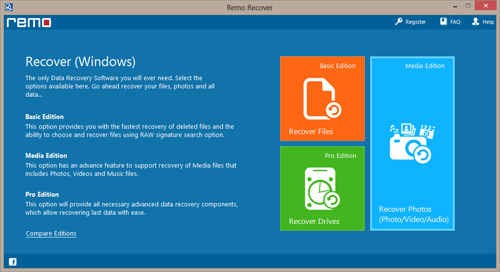 Fig 1: Main Screen
Step 2: Now, you have to choose CF card among listed logical drives as shown in Fig 2.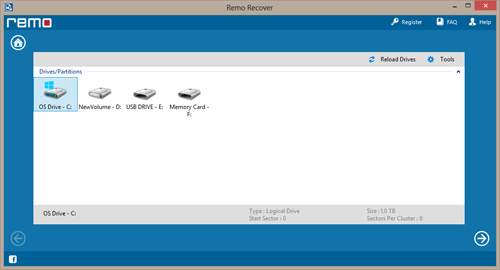 Fig 2: Select CF Card
Step 3: After completion of recovery, you can preview restored images as shown in Fig 3.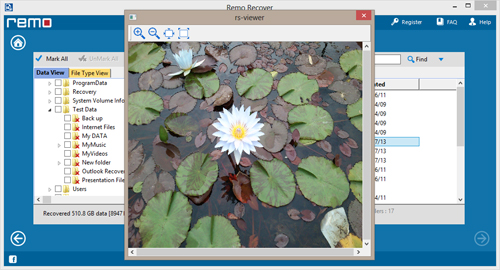 Fig 3: Preview Window
Safe and Secure

Testimonials